Telenor Velocity's DuckStories is back with its fifth episode with a much-needed discussion on how to bridge the digitalisation gap. DuckStories is a platform by Telenor Velocity that leverages learnings from failures, by inviting people to talk about stories they haven't told to anyone, so that the industry can learn from their mistakes to ensure ensuing successes.
Relevant Read: Telenor Pakistan celebrates 'Customer Day' by being #MoreSeZyadaCustomerFocused
After the immense success of previous sessions featuring Muneeb Maayr (Bykea), Zouhair Khaliq (TeamUp), and Parvez Abbasi (NIC), DuckStories is back with a new episode to talk about the role of IoT during and after the Covid-19 pandemic. This episode featured two special guests: Seth Ryding from Telenor Connexion and Jehiel Oliver from Hello Tractor, which is also a part of Telenor Velocity's cohort.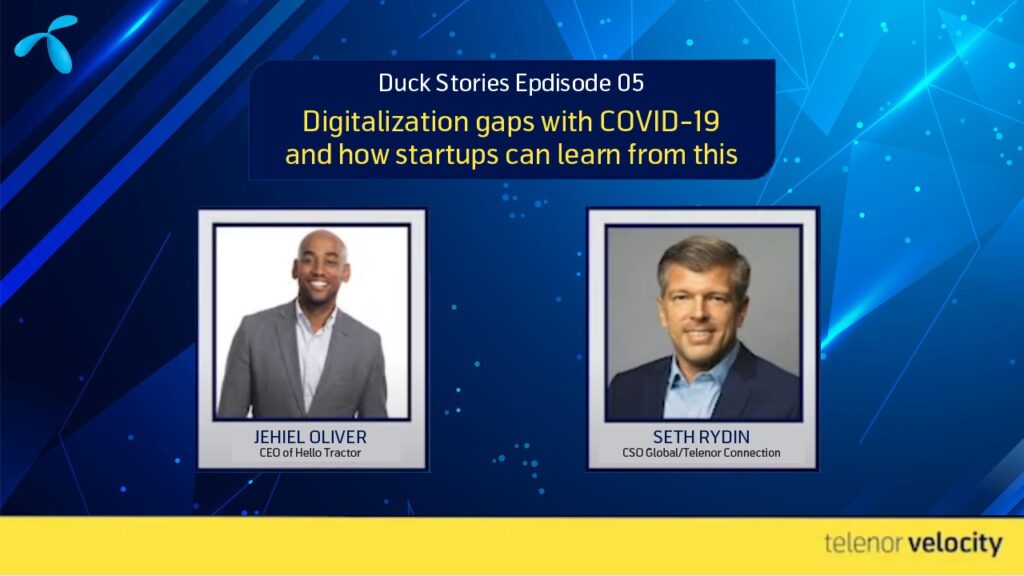 Seth Ryding is responsible for driving Telenor Connexion's operations outside the Nordics which is spread across sales, development, partner strategy and much more throughout the Americas, Asia Pacific, Europe, Middle East and Africa. Jehiel Oliver manages the overall strategy for Hello Tractor, an agricultural tech company, that connects farmers with tractor owners through an equipment sharing application.
In this episode of DuckStories, Jehiel and Seth spoke about the immense role of IoT during the last couple of years, and the acceleration in its uptake after the global health crisis. From this discussion, we have compiled a list of lessons learned in business and IoT during Covid-19.
Change must be embraced
Connectivity is now at the center of our daily lives. Since the lockdowns, it is clear that any machines that requires physical human interaction in order to continuously work requires an overdue upgrade to secure performance and optimize maintenance. Many startups have realized that sometimes it's necessary to just get the product or service out there, test the waters, and adapt as you go. At the same time, it's important also to not be over-enthusiastic about change; 5G, for example, is too early to invest yourself in because it is simply not big enough yet. 4G equipment is much more affordable than 5G ones, at the moment and has a larger global deployment and there for is easier to use to gain scale.
Collaboration allows room for growth
It's good practice to know when to curtail some ambitions. Sometimes, it's more fruitful to build upon an existing idea, and take it to its full potential. If third-party solution already exists, then it may be a better strategy to invest your efforts and resources into the idea behind the usage of that hardware to leverage the most value that you can.
Services over products
There is greater appetite for connectivity across the board and smaller companies have been quicker to respond. In Europe, there has been greater demand for personal trackers for health and sleep monitoring purposes, and for services that allow remote reading of metering and utilities. Traditionally, maintenance personal had to manually get their meter readings, but now there are companies that are digitalizing that. However, the challenge of physically rolling out devices and installing them in people's homes during lockdowns is a bit of a stretch. That is why innovating in services that can be deployed directly is the wiser option even though the pace will pick up for roll outs soon.
Expand the digital horizon
Since the pandemic, organizations have learned to operate more efficiently from great distances. The psychological limits that people were bound by before the pandemic have all lifted, and we have learned to work with our teams remotely. E-commerce has now expanded to include the global shipment perspective, while the world moves away from physical cash. Now, the focus needs to be on the environment, and how technology can present solutions for a greener tomorrow.
Internet of Things in emerging markets
Agriculture, automotive, transportation and logistics as well as smart cities are very interesting areas that hold immense potential in terms of innovation in the Internet of Things (IoT) sphere. These industries involve insurance issues, damages to products, and so many more issues that can't currently be tracked because of a lack of adequate IoT connectivity infrastructure. Many countries in Europe already have vehicles connected to the internet and another area IoT will benefit is healthcare especially when it comes to wearable devices that monitor a user's well-being.
Recent achievements in IoT have been the center of attention for researchers and developers around the world. IoT experts are already collaborating to grow the technology further, while benefiting societies. However, there needs to be an effort to ensure easy access for Pakistani consumers to global IoT technologies with fewer logistical hurdles and more regulatory support. Global IoT is advancing at the speed of light and Digital Pakistan can become a reality by creating ease in the business environment.